2020 Supper Club
A season for Awareness
Jan 11 Nowendoc (a free concert for drought/ fire affected folk)
17 Murrurrundi, 18-25 Tamworth !!
Scroll down for Details & Posters

Here's a hint of our music being prepared!
The epic North Tamworth Supper Club week is literally one gig
stretched through 15 shows! Hardly any repeats so we hope
you make it to a lot of the shows!
Season ticket gets you 5 free shows!

Note: Pete Fidler swapped with James Church

**************************************************************
Special treat at Chicken in the Window Barn Fri 17th Jan
Our annual Murrurrundi return show - always unique
a sneak preview to the Tamfest version
Stunning dinner from 7.30, music from 8.30
Contributions as much as it feels good from the realm that is Fran's Barn music!! Call Andrew to book for food numbers
Ph 0407 753809

25 years ago Clermont did 700 Bluegrass shows in Taiwan featuring Canada's Bluegrass Legend Jenny Lester. This year they re-gathered but in Australia!
She's a High Country Horse training and Bluegrass singing, Fiddle, Double Bass & Guitar star!
Plus Bluegrass Banjo prince from Adelaide, Paul Cooper. Brookie & Daniel Gillett - Tamworth Stars of Stage on amazing harmonies & songs on Harp Uke to Bass Clarinet!!
The sublime Garry Steel on Accordion & Keyboards - we call him "the dream" player. Where ever your imagination can go, he'll be there & beyond!
Plus from Adelaide Studios, Quentin Eyers on Bass & plenty surprises!
Multi- champion performer Andrew Clermont weaves many styles & folk into unforgettable nights unique to each gathering. Hardly a style will go by untouched.

*************************************************************




**************************************************************
2019 feasts



****************************************************************
Happy 21st to Andrew Clermont's International Supper Club!
Sat 19 - Sat 26 Jan 2019

The gathering for next January is building up.
All the way from Germany, Mensch, Monique! with a likely dash of The Sauerkrauts !
That means Georg & Jule, formerly of The Beez (as are The Sauerkrauts - Rob & Deta) complete with their young family will be with us again, but not only as Mensch. Monique!
http://menschmonique.com/ but it turns out that Georg was also Bassman to Germany's Pink Floyd Show and so the subject of the Psychedelia

genre came up - infact quite a few times in the last while - between our powering Dobro-logist Pete Fidler with Lap Steeel, Paddy Montgomery bringing his electric 12 string (ala The Byrds) and extra special guest FRED SMITH, who seemed to also have soft spot for the genre too!
So toward the end of our week 9pm Fri 25th Fred Smith will cross-section us through his Diplomat life as peace-keeper in Papua New Guinea through to Afghanistan via incredibly insightful songs & stories and then bend into a finale of Psychedelia and other 60s/ Floyd/ Emerson Lake & Palmer music marvels with the Sup Club team
- best book early for that one!
Each year we explore just another theme or collection of music inpired by the orchestra that presents itself. This time there will also be a Hats Off to Joni Mitchell with Help Me & Free man in Paris from her Court & Spark album!
This coming year's orchestra includes
Garry Steel, Robbie Long, Jude Iddison (WA), String Loaded Family Band, Pete Fidler, Quentin Eyers (SA), Glen Skarratt, Brookie & Daniel Gillett (congrats on the new twins!), Peter Daffy (VIC), Sue Morley, Leslie Avril, Mick Conway, Dani Young, Marty & William Louis (Banjos), and still a whole bunch still being sorted
- much more info soon!

Every Night Sat to Sat 6pm
('cept Fri)
& 9pm
- with changing 9pm themes where we lean a little harder in their direction ie. Hot Fiddle/ Ukulele & Mandolin/ Banjo & Oldtime/ Girls Night/ Guitar Night/ Piano Night/ Fred Smith & Psychedelia/ Grand Finale
- bookings open in Nov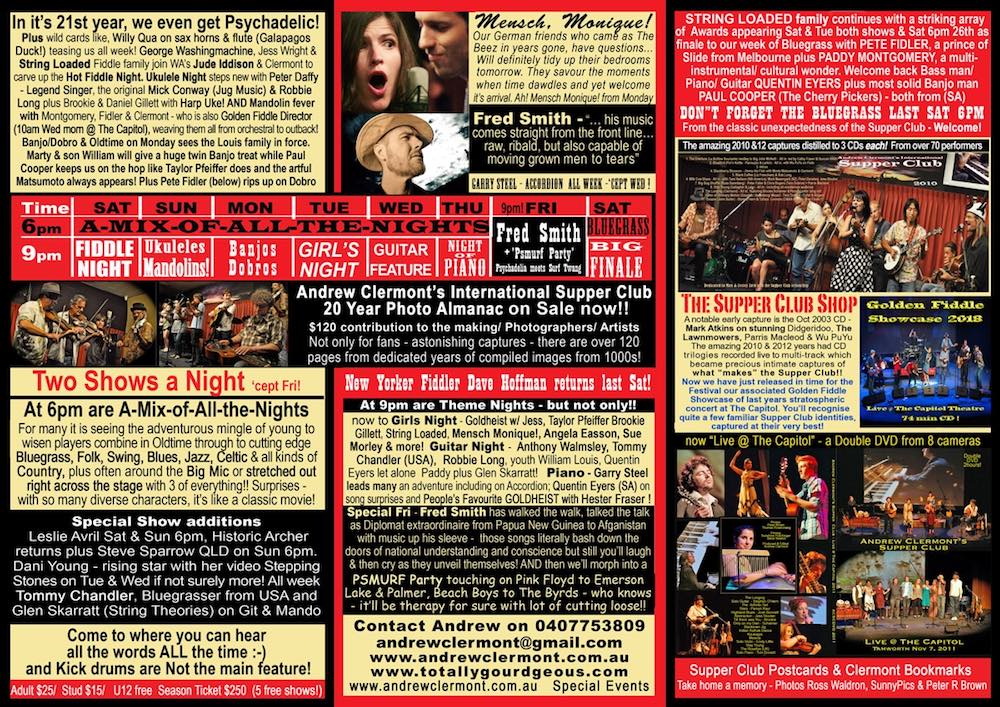 ********************************************
It was our 20th Supper Club year!! 2018
Celebrating with an epic 120 page Photo Almanac!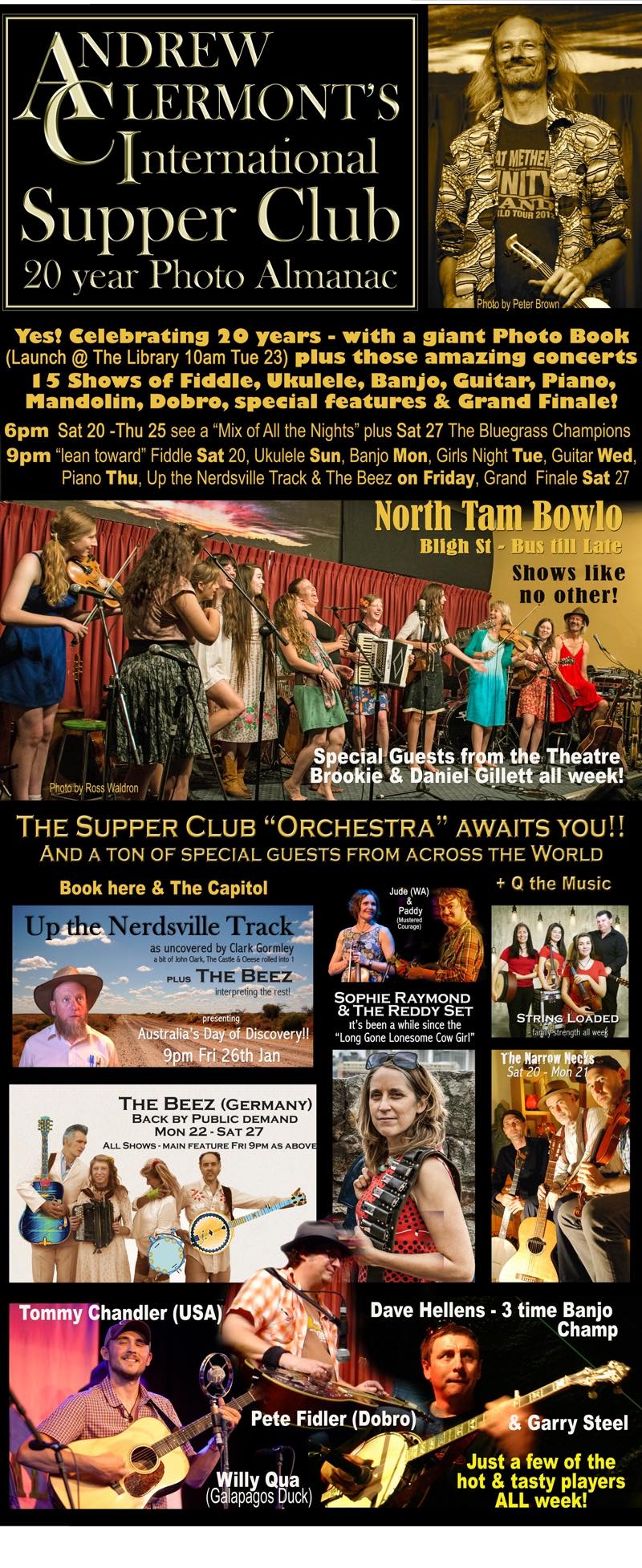 Andrew Clermont's Supper Club celebrates the years of intimate pin drop through to 18 piece orchestras whirling out music from many backgrounds from Trad Country & old time & Bluegrass through to epic Dan Fogelberg, swing from Texas to Tarcutta, or Sixpence None the Richer songs (see pic below from 2016 Jan - setting up for it with 5 part string section!) plus amazing originals. Then there are all the genres & Country(s) music to soar through including adventures from Scandinavian to Bulgarian, Irish & Scottish to Appalachian & Blues let alone the very fun improvisation when you least expect it plus a splash of Spacegrass!!

And the musos will be happy -
the door price had to finally increase a bit to $25 so there could be more to share!
But you can certainly get 5 free shows if you get a Season Pass!
Just Email Andrew direct - andrewclermont@gmail.com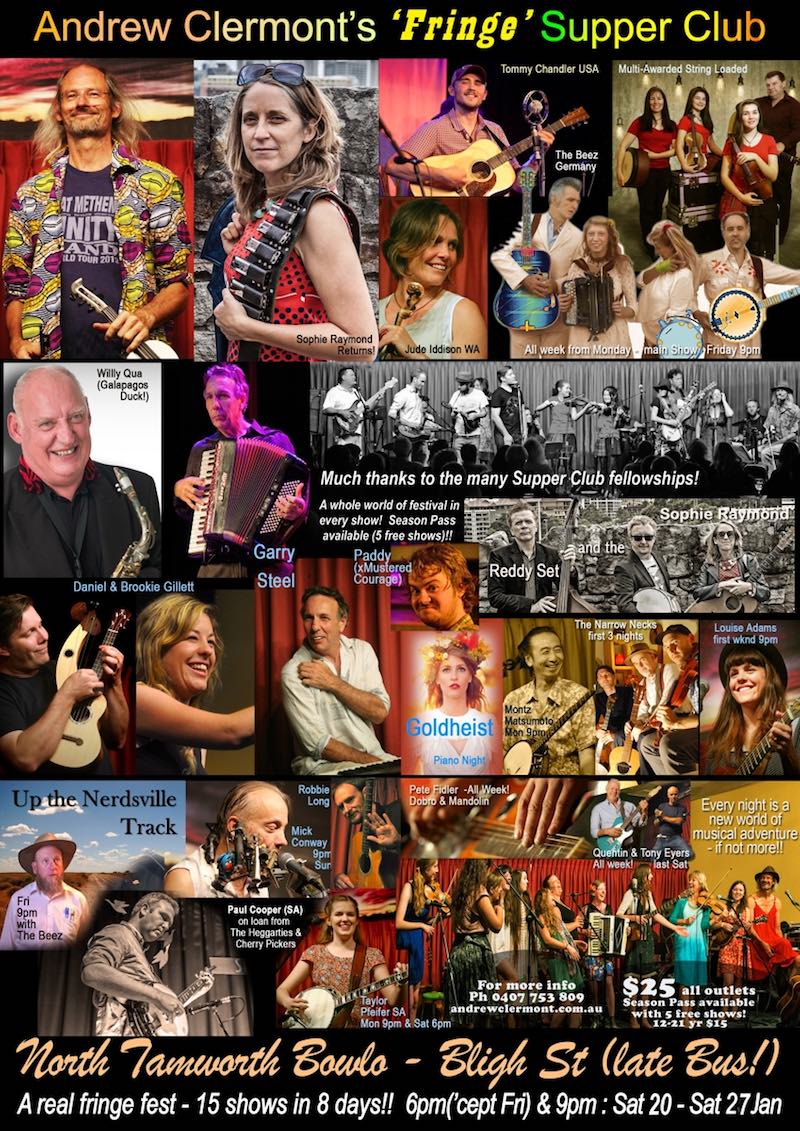 slightly finer detail!!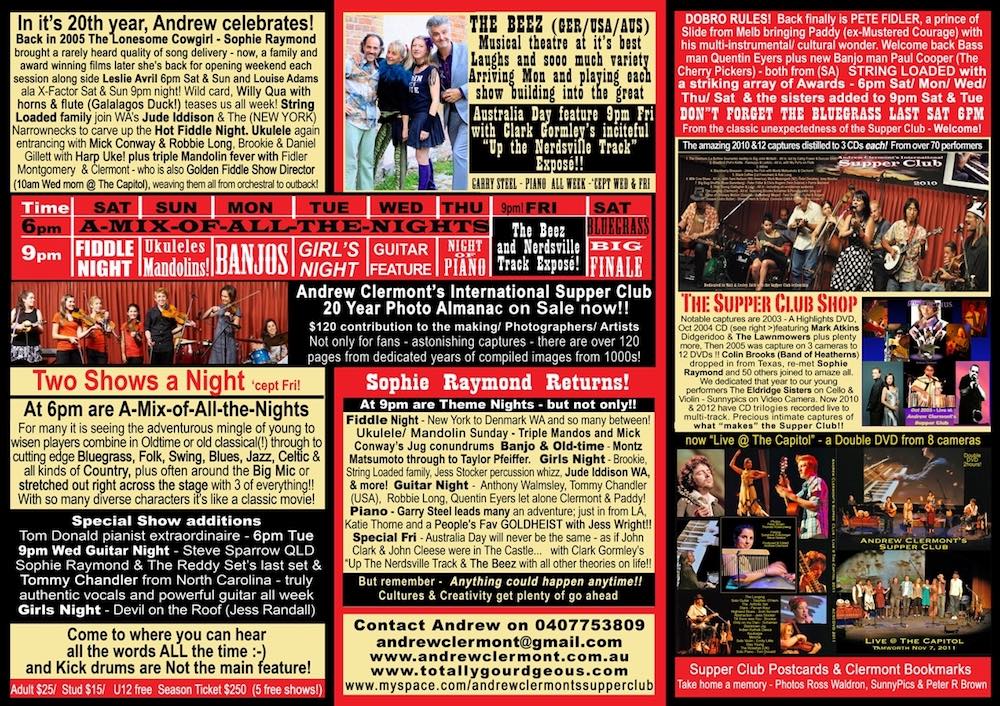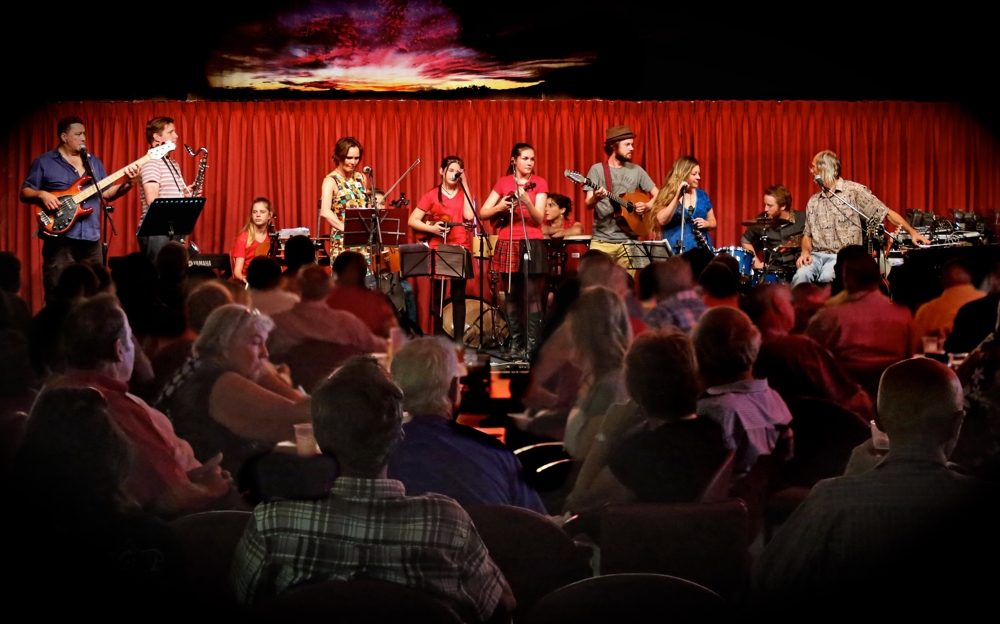 above is a co-ordination pause inbetween pieces from Sixpence None the Richer!
- Just one page in over 120 of the grand Photo Almanac!
__________________________________________________
2017 Supper Club
Last January we welcome special return of our first No Holds Barred Fiddle Champ –
Stephanie Eldridge - first appearing with us over 15 years ago!!
Quentin Eyers - session Bass, Piano, Guitar, Mandolinist (SA) who toured much of a decade with Clermont around the world.
Marcus Sturrock - "surprise" studio slap Guitar (WA/VIC) returns.
String Theories - James Church (Dobro), Glen Skarratt Mandolin, Guitar), Simon Watts (Fiddle) (SYD) follow their wonderful CD release. (9pm Sunday 22, Wed 25 and 6pm Tue & Thu)
X-FACTOR's Louise Adams - Sat 21 - 6 & 9pm, Mon 6pm & Tue 9pm
Garry Steel - Piano & Accordian to the Stars! (SYD) and with us all week (bar Wed & Fri)! Together with his more rustic brother Kirk, they have wowed us over & over at the Nights of Piano.
Old-time Fiddler David Hoffman with a good coupla centuries of family fiddling behind him (NY,USA) joins us for the earlier days, with Claw Hammer Banjo gentleman Harry O'Donovan.
Montz Matsumoto - Bluegrass to World Banjo (TAS) – been with the Supper Club well over a decade!
String Loaded Family Band (Maitland NSW) Scottish to Bluegrass fiddle heaven and golden string section.
Jude Iddison fiddler co-performing with Clermont for years in WA and our Golden Fiddle Award Shows.
Brookie & Daniel Gillett - Tamworth's own Voice & Singing stars of the Theatre (Wicked – just recently) and long time Supper Club devotees – plus Bass Clarinet to Harp Ukulele !
Robbie Long (formerly in The Lawnmowers with Clermont) - Guitar Champ through to drums swapping with Jess Stocker! (NSW)
The Legend Mick Conway joins Rob on Sunday's Ukulele Night.
Star Leslie Avril showing her unique piano world! (Sat & Mon 6pm) VIC
The Shared Affair from Mildura with Tony Smith become Shoestring featuring multi-instrumentalist Chris Rogers multi, Melissa Tucker (Fiddle), Luke Peak (Drums), David Harris (Bass), Penn Farmer (Guitar).
Appearance from Peoples Favourite Award last year - Hester Fraser "Goldheist" with Stephanie Eldridge - extra-ordinary Voice & Piano to share the Piano Night (Thursday) with another special treat - Richard McPhillips, a Boggabri "Local" though actually a retired Woolongong Club Pianist of endless performance background! let alone our all week Garry Steel - Keys to the stars! - and he'll feature Sunday 6pm in our special inclusion again of the
Hired Hands Anniversary Party @ The Supper Club (6pm Sunday 22)!!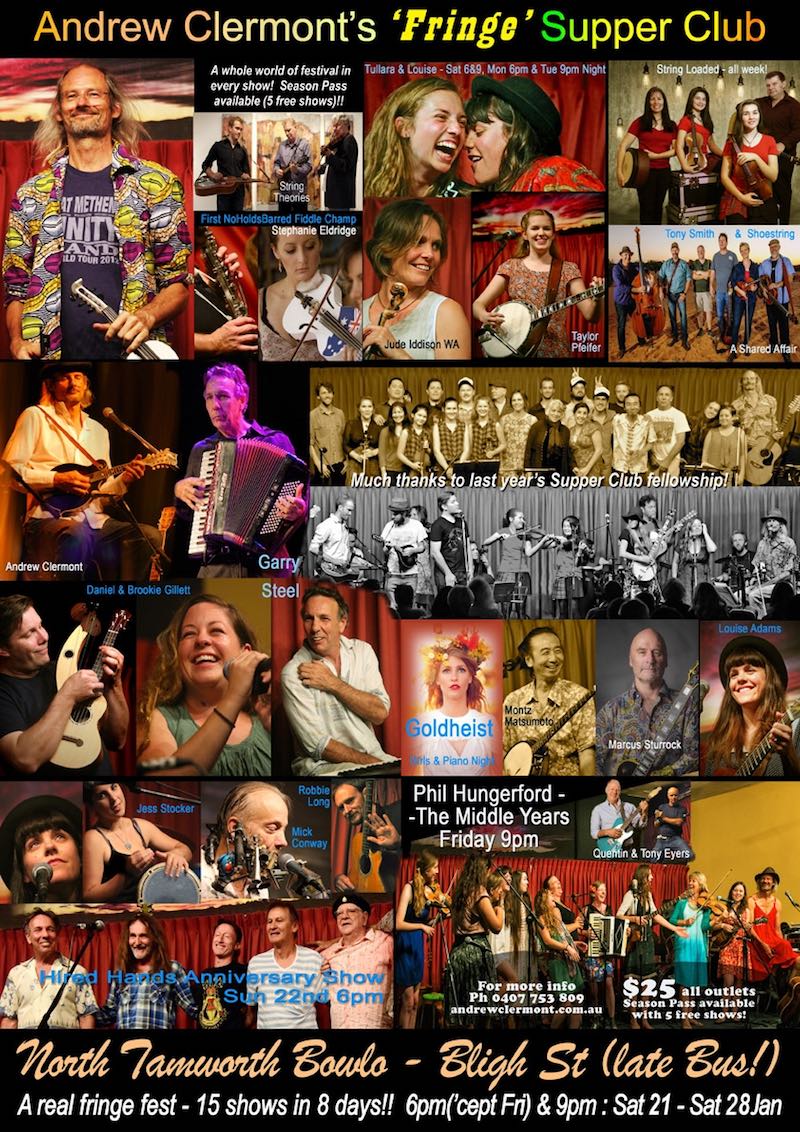 and in detail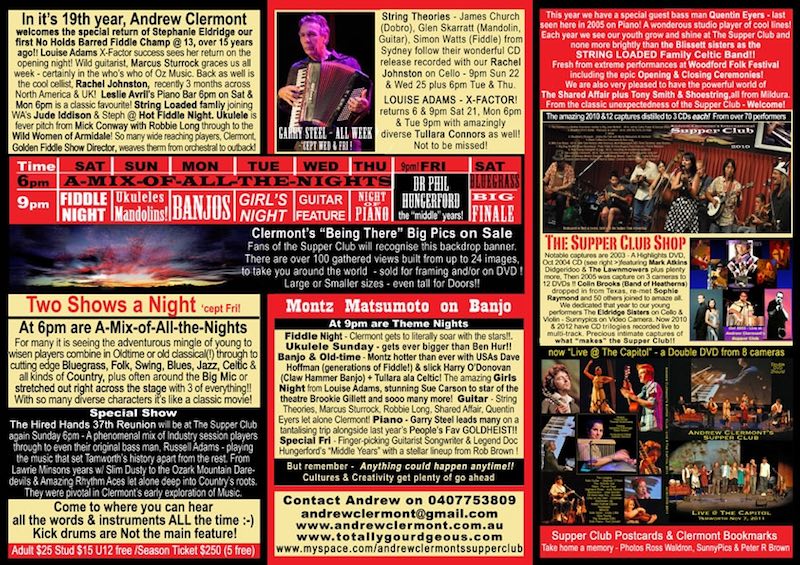 Or Chronologically below!!
Andrew Clermont's Supper Club
North Tamworth Bowling Club
Jan 2017
15 Great Unique Shows !!
nearly 100 performers through the week!!
(9pm "Features" means a "lean" toward that flavour but not only!)



6pm Sat 21

A Mix of All the Nights
Special Guests – Leslie Avril, Louise Adams (X-Factor!), Brookie Schiemer,
Marcus Sturrock & plenty more!


9pm Sat 21

Hot Fiddle Feature
Special Guests – Louise Adams, Shared Affair,
Stephanie Eldridge Fiddle Champ, Jude Iddison WA


6pm Sun 22

The Hired Hands Anniversary Show exclusive!!
Lawrie Minson & Friends with over 30 years covered
9pm Sun 22 Ukulele & Mandolin Feature
Special Guests – Mick Conway, Wild Women of Armidale, Chatham City,
Gunnedah Ukes, Sophie Raymond(!), Miss Spent Ukes
plus Brookie & Daniel Gillett and …!!
6pm Mon 23 A Mix of All the Nights
Special Guests – Louise Adams (X-Factor!), Leslie Avril, David Hoffman (USA Fiddle)
Marcus Holden (Mon & Tue night - plus Golden Fiddle Show Wed morn!)


9pm Mon 23

Banjo & Oldtime Feature – Special Guests –
David Hoffman (USA) & Harry O'Donovan, Montz Matsumoto,

Robbie Long




6pm Tue 24

A Mix of All the Nights
Special Guests – String Theories, David Hoffman (USA Fiddle),


9pm Tue 24

Girls Night – Special Guests -
Sue Carson, Louise Adams (X-Factor!), Sophie Raymond,
Goldheist, Shared Affair, Brookie Gillett + many


6pm Wed 25

A Mix of All the Nights
Special Guests – String Theories, Shared Affair with Tony Smith


9pm Wed 25

Guitar Feature
Special Guests – String Theories, Marcus Sturrock, Robbie Long, Shared Affair, Quentin Eyers,
Brendan Radford & Clermont


6pm Thu 26

A Mix of All the Nights
Special Guests – String Theories, String Loaded, Quentin Eyers


9pm Thu 26

Night of Piano
Featured Guests include Goldheist (Voted Peoples Favourite!), Garry Steel, Quentin Eyers, Richard McPhillips, Tony Eyers

Please note - No Fri 27 6pm concert


9pm Fri 27

Dr Phil Hungerford "The Middle Years" big Band!




6pm Sat 28

Bluegrass Champions - Book/ arrive early !!!




9pm Sat 28

The Grand Finale!! Pure Gold!!

The Supper Club "Big" Band - most shows – includes Clermont, Brookie & Daniel Gillett (Tamworth Theatre), Marcus Sturrock Guitars & Jude Iddison Fiddle WA; Montz Matsumoto Banjo TAS; String Loaded Celtic Family Band, Garry Steel Piano, Rob Long Guitar/ Drums, Jess Stocker Percussion & Drums, Quentin Eyers Bass, Piano, Guitar and ....

All Concerts $25
Double Concert $45 (available at the door) plus
Season Pass (5 free shows!!) $250
Tickets @ most Outlets & Venue
email andrewclermont@gmail.com
or Ph 0407 753809 with inquiries


xxxxxxxxxxxxxxxxxxxxxxxxxxxxxxxxxxxxxx

Woodford Folk Fest 2016 events can be gleefully anticipated plus :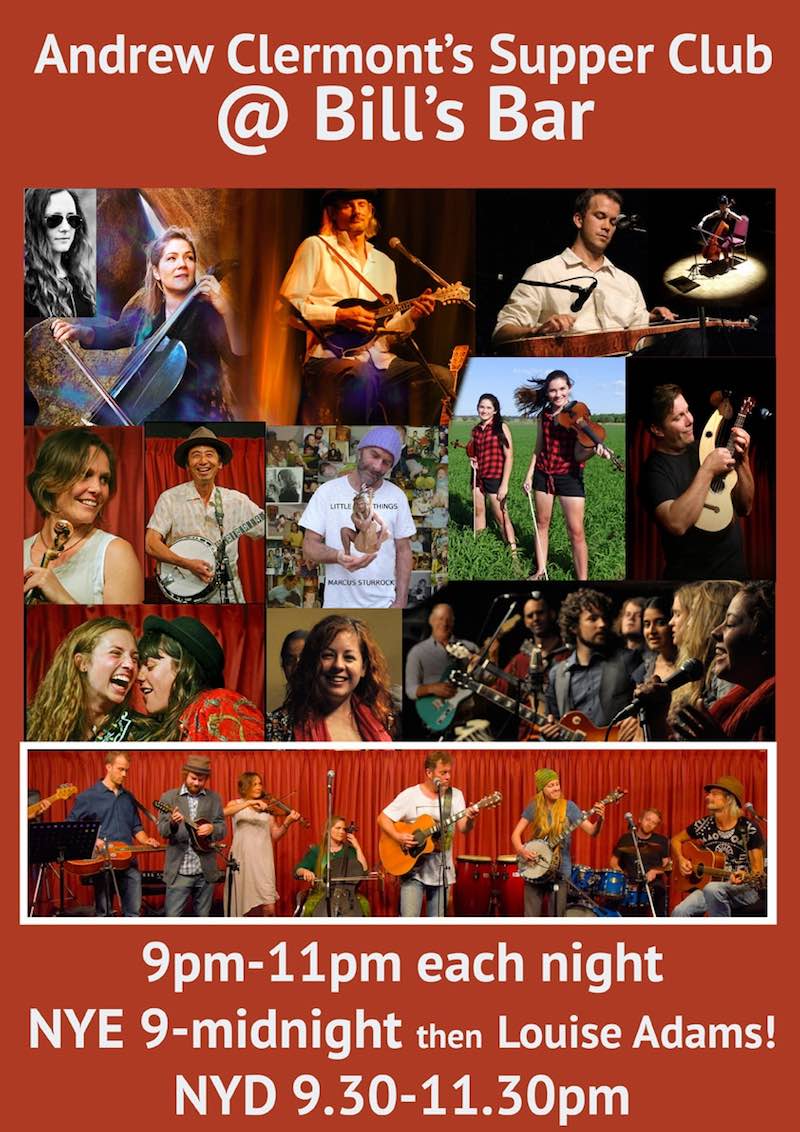 A"late" in year Tamworth presentation in 2016 was


Wookey/Matsumoto/Clermont - November, Thu 10th!!
@ The North Tamworth Bowlo - Bligh St
as part of the closest thing to a "Hits & Memories" Tour I've ever done :-)
We traipsed Melb to Tamworth & back to Harrietville in 3 magic weeks
- much thanks to all who helped & came

***********************************************

Tamworth Supper Club - our 18th!! It was absolute magic!
2016 Jan Sat 16 - Sat 23


Special Guests - Kavisha Mazzella, Gerry O'Beirne (Ireland), One Up, Two Down (USA, NZ, AUS), Leslie Avril (1st weekend), The Hired Hands Anniversary Party (Sun 6pm), Alesa Lajana, Kathryn Archer (Florida), Jess Stocker, Sam Reed (Drums & French Horn!), Darryl Walker (Flying Emus - Bass), Jude Iddson (WA fiddle), Louise Adams (second in X-factor!), Montz Matsumoto (Tas), Rachel Johnston (7 years Australian String Quartet!), Pumpkin Juice - now "String Loaded Celtic Fiddle Band", Paddy Montgomery (ex- Mustard Courage), Chloe Nott (Tamworth Banjo) and......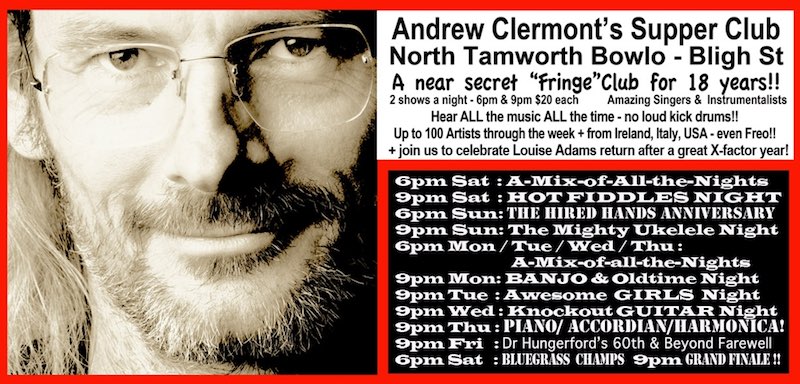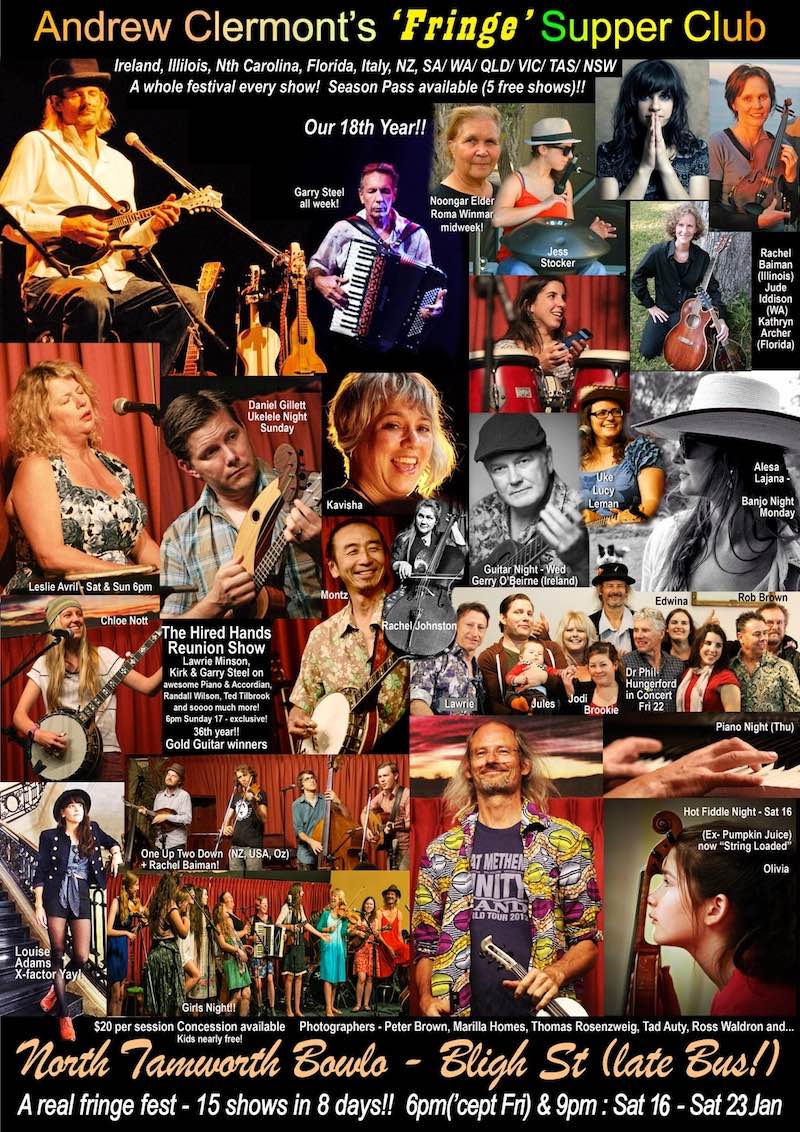 Or with more detail !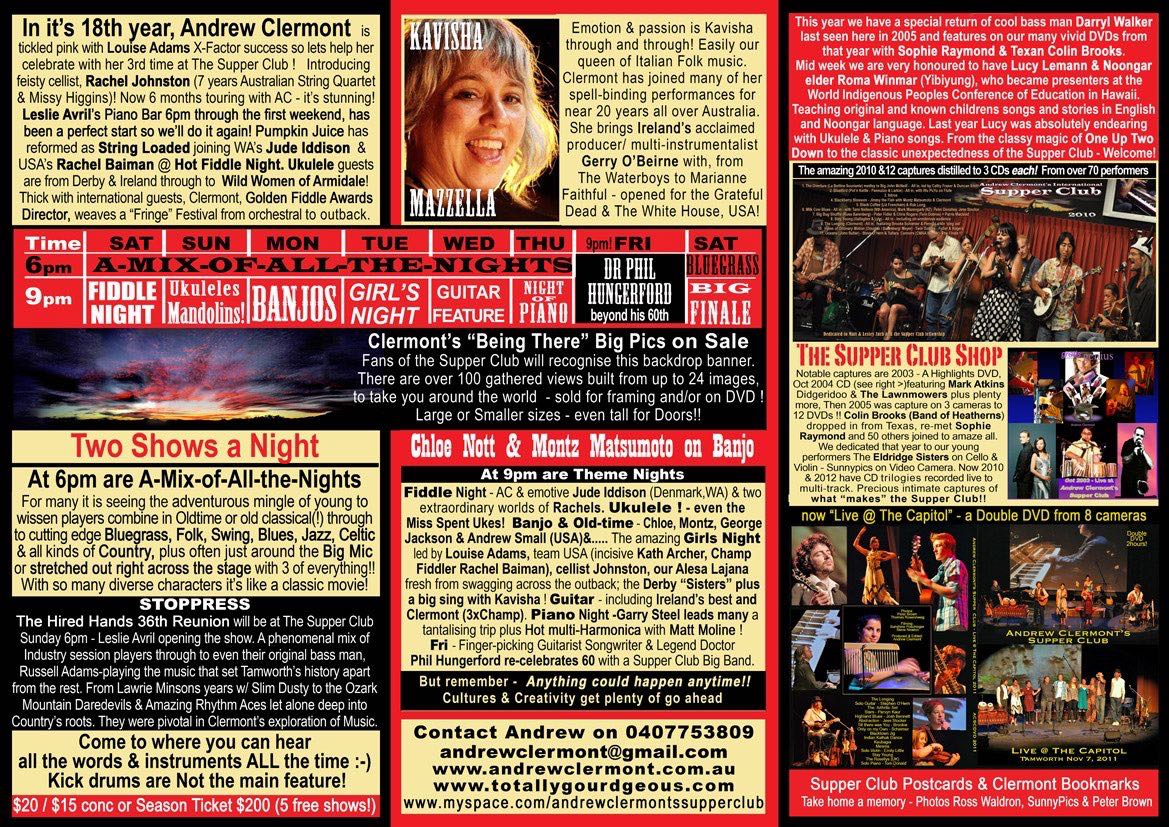 Supper Club
Woodford Folk Festival Supper Club @ Bill's Bar 2015 into 2016 complete with Totally Gourdgeous & The Festival Orchestra! Dec 27 - Jan 1


Tamworth Supper Club 2015 (Details Below!)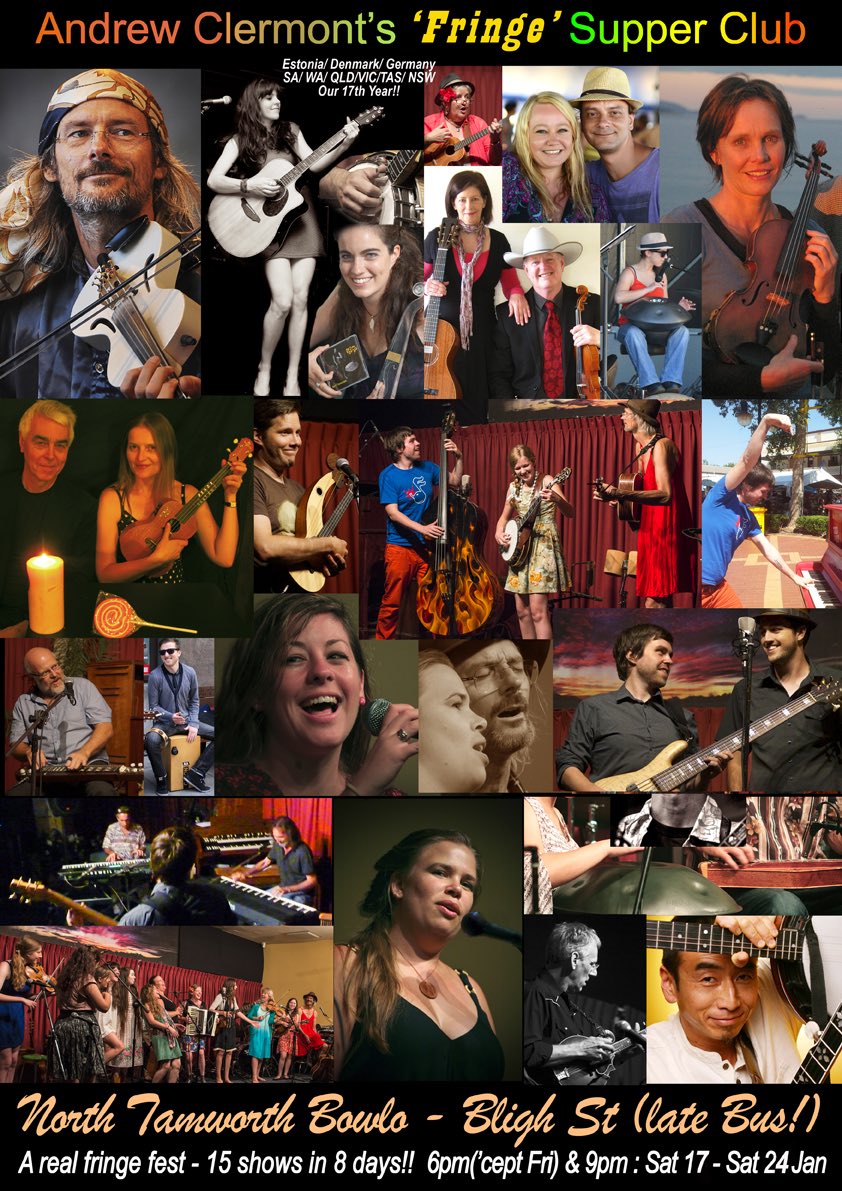 L-R, L-R etc -
Andrew Clermont, Louise Adams (VIC), Cathy Welsford, Chontia Robinson & Parris Macleod(QLD), Jude Iddison (WA)
Jeri Foreman (SA), Philomena Carroll & Paul Wookey(VIC), Jess Stoker
Sweetness & Light (Simon Frank & Marta Bayly)(SA), Daniel Gillett (Harp Uke), Maik Antrack (Germany), Taylor Pfeiffer, Clermont, Marilla
Chris Rogers, Rauno Vaher, Brookie Schiemer, Marilla Homes & Clermont, Maik, Gäge Stead
Piano Night, Girls Night, Marilla, Gubal, Dulcimer, Nigel Lever (Mandolin), Montz Matsumoto (Tas)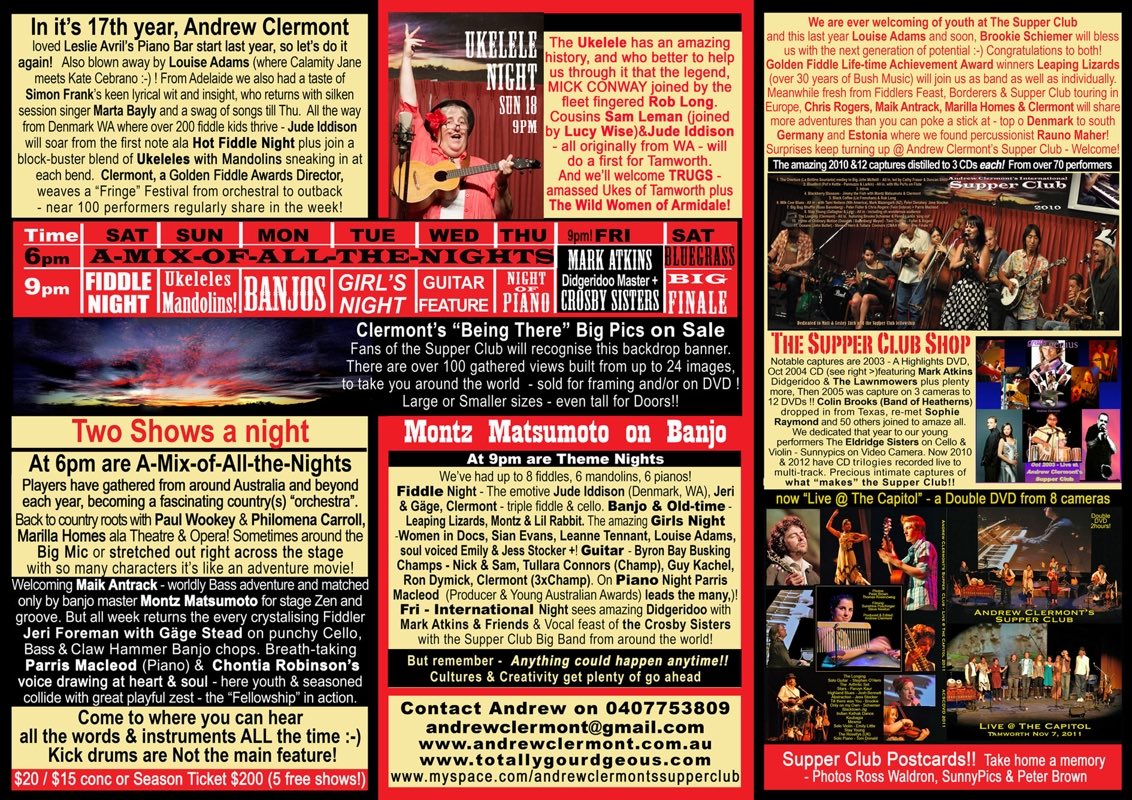 Ah! Yes, Ukulele - a fopar in the pic above!
Leslie Avril (1st Sat & Sun 6pm only)

6pm Shows are A-Mix-of-All-the-Nights (no 6pm show Friday)
alway different and a grand showground of talent and invention of "The Fellowship" above.

9pm Shows have unique flavours!! MANY SPECIAL GUESTS !

Sat 17 Fiddle & Mandolin - Champions from all directions!

Sun 18 Ukelele & Mandolin (we figured more is better!) plus Mick Conway & Rob Long, TRUGS (Tamworth Ukes amassed by Brookie Schiemer), the graceful Harp Uke with Daniel Gillett, Wild Women of Armidale, Sam Leman & Lucy Wise!

Mon 19 Banjo & Oldtime - plus Sian Evans (Rusty Datsuns), Leanne Tennant(TBC), Taylor Pfeiffer, Golden Fiddle Life-time Achievement Award winners - The Leaping Lizards (QLD) and our beloved Montz Matsumoto.

Tue 20 Girls Night plus Women in Docs, Sian Evans, Leanne Tennant,(TBC) and Armidale soul voiced Emily & Jess Stocker , Taylor Pfeiffer- and our own Louise Adams, Marilla Homes, Jude, Jeri ....

Wed 21Guitar Night - Special guests Byron Bay Busking Champions Nick & Sam, highly awarded Tullara Connors, Clermont & Maik Antrack cut loose with Ron Dymick, Guy Kachel, and plenty TBA

Thu 22 Piano Night - Parris Macleod returns with his music from movies & albums afar and the various session players usually sneak in through the night! Including likely Accordian & Harmonica worlds !- Plenty TBA

Fri 23 International Night with Mark Atkins & Friends (our legendary Didg player all over the World and Olympic Games) and the vocal gold of the Crosby Sisters together with Euro visitors Maik Antrack & Rauno Vaher & the Supper Club big band!

Sat 24 The Finale - the final show & tell from the week's mighty mingle
(6pm is Bluegrass!) Booking highly advised

Tamworth tickets are $20 & $15 concession available from the door or Info Centre
- or get a Season pass for $200 (5 free shows)
The above detail may change a little - we hope that won't inconvenience you.

and a few weeks earlier!


Woodford Folk Festival Supper Club @ Bill's Bar 27Dec'14 - Jan1 2015