Andrew Clermont
Recent Bio

Musical Chameleon, Multi-Instrumentalist, Recording Artist, Producer, Engineer, creator of "Being There" big pics.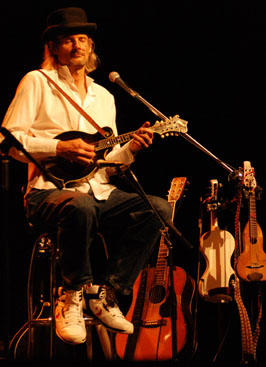 During the Supper C lub at The Capitol Theatre, Tamworth Nov 2011 taken by Thomas Rosenzweig
Down load 1.1Meg Version here!


296KB

362KB

390KB

408KB




891KB


485KB

771KB


475KB

(click an image to see it larger)
First row by Jon Armstrong
2nd row : poster by Amanda Gilmour & B/W by Philomena Carrol
3rd row : Shot by Jake
The Sponsors -
Epoch Violins / Maton Guitars / Gilchrist Mandolins / White Swallow Banjos/ Longgrass Clothing

Has Created -
· The NoHoldsBarred Australian Fiddle Contest ( Jan 2002 - 2008 TamFest)

· The (week long) SUPPER CLUB ie 15 shows of - Night of the Piano, Swing, Slide, Fiddle etc - it's 14th year in 2012 (a fringe to Tamworth Country Music Festival)


The Visual -
An imposing, colourful sight (Shirts often by Janice Silks) at 2m (6ft 7ish) with tiny Fiddle/ Mandolin in hand swaying throught the music.

The Instruments -
Didgeridoo, Tenor Banjo, Mandolin Family, 6 & 12-string Guitar, 4 & 5 string
Fiddles, Dulcimer, Viola, Vocals, Mixing Desk…


The Sound -
With borrowings from most styles, there is always adventuresome music with Andrew. From Blues Fiddle showdowns with Jeff Lang to Celtic & Meditation. Plus as 3-time Australian Bluegrass Guitar Champion '84, 85 & 87; Golden Guitar winner '87 (Best Vocal Group) with the Three Chord Wonders and nominated to top 5 Best Instrumental 5 times since '96; over 20 CDs between solo, bands & themes there's been much variety to savour.

The Bands -
Active or on call -

- BluGuru "Ragas 2 Blu Riches" CD & Tours - a core trio from 3 groups below!
Totally Gourdgeous (Voted Best Live Folk Group - World bound)
· Andrew Clermont's Supper Club - a Festival Event & Fringe to Tamworth CM Fest
· The Lawnmowers at the "Cutting Hedge of Bluegrass" (!)
· Dya Singh World Music Group - multi -Awarded National(SA) to USA, UK & Malaysia annually)
· Terra Australis (Multi-Awarded Bush Band)
· Celtic Conundrums (with Ollie Francis)
· The Borderers (Nationally quite often - even Europe)
· Fiddlers Festival (Tamworth Fest to Tokyo)
see CD page



The Tour highlights -
· fiddling for Tom T Hall (USA - thrice nationally, including a fun duet support with Beccy Cole),
· Sound & multi-performer with Brian Young (4 Oz laps '84, 85, 89, 94)
· 1988 Ski season Mt Blue Cow plus World Expo Brisbane with Art Gecko (love that name)
· 1992 - 6 months World Expo, Seville, Spain at the Kangaroo Pub (the centre of one version of the world, at the time!). Also learnt didgeridoo there!
· European Tours with - Kelly's Revenge '94 (Sweden, Norway, Germany, Austria) / Norma O'Hara Murphy '95 (Germany, Ireland, London)
· Taiwan Bluegrass Show & co-ordinator '96 - 98
· USA, Canada, Asia, Kenya & Tanzania & UK with Dya Singh each year since 1999 - 1 to 3 months at a time.
· Japan & Hong Kong and Oz wide - Fiddlers Festival since '01
· All Oz capitals and most Folk Festivals - Totally Gourdgeous &/or Solo - 2001, 02 and Europe/Singapore in the years that followed
· 2002 New Zealand for Coro. St star, Kevin Kennedy and All the Best Tour, 18 shows - mostly sold out!
- 2003 to 2009 criss-crossing the planet and much of Oz with Dya Singh & Totally Gourdgeous (Denmark WA to Denmark Europe in the same month tour!)
. Around coast from Perth to Woodford QLD since Autumn 2009 with Josh Bennett
and in 2010 as well with Parvyn Kaur Singh as BluGuru. Gigs by night, cliffs & mountains by day!




The CDs & Videos -
· "The Longing" - presenting a 10 year crossection - the definitive
· "BackBeat …the sessions" - rockin' Bluegrass - a Classic
· "Didgeridoo Interludes" - landscape sounds from cello to Didg (Alistar Black)
· "Fiddlers Festival Live" - 10 great Oz fiddlers from 3 shows'n more
· Fiddlers Festival "The Feast of Fiddlers' ABC:16 individual artists glorifying the Violin
· Fiddlers Festival "Strung Out" -: Favourites & More
· "Terra Australis" originally FowlHouse Jack Won of the Battle of the BushBands 99, 2002 - Top 5 Radio airplay
· BLUEGRASS - Made In Taiwan : LIVE & STORMY - featuring Jenny Lester (Canada), Daryl (Jack ) Melbourne & Andrew
· Instrumental adventure "Dance of the Good Life" with the amazing Parris MacLeod (piano/drums/bass)
· "Happy As Larry" Clermont & Parris Macleod. Violin & Piano duet instrumentals to take you away in happy ways.
· Dya Singh - "Bandagi" Active Meditation Songs & Music! From Nth India styles .
· Dya Singh "Sukhmani Simren " - a 1 hour meditation
· TOTALLY GOURDGEOUS DEBUT CD - reggaed folk ! Penelope Swales, Mal Webb, Carl Panuzzo, Andrew
· TOTALLY GOURDGEOUS "D'vine" Out by July 2002 . Joni Mitchell meets James Brown in Bob Marley's pumpkin patch!
. TG - Stroke of Midnight and now DVD - The Bazaar Clips - Woodford 2008
· Healing & meditation, with partner Pauline 'Songs for the Soul' and now on DVD as well, featuring Pauline's Art designs
· "Let the Sun in You Shine through" - Pauline . A Healing CD with meditation based on recovering from Abuse
· DVDs - A Crash Course to Fiddling Freedom (or Mandolin/Didgeridoo/guitar)
. The Lawnmowers Combo CD distilled from The Goodroad & Second Cut
. Big Pics DVD series from landscapes assembled seamlessly from up to 24 photos taken across the world!
. Landscape Photos orderable - see some of the examples at this link can be up to many metres long/wide!
. BluGuru CD - Ragas 2 Blu Riches - 2010
. Andrew Clermont's International Supper Club 2010 Vol 1,2 & 3 CDs
. London Abstractions DVD & CD with Mal Webb, Tom Donald, Mark Buckingham
recorded live in Putney, London









Monday, July 20, 2015 10:30 PM